Treatment for Addiction to Smartphones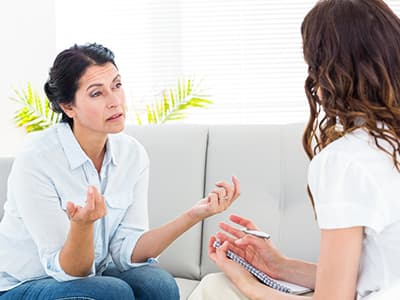 Table of Contents
Self-Treatment for Cell Phone Addiction
Smartphone Addiction Therapy
Treatment Groups and Centers
---
Self-Treatment for Cell Phone Addiction
Smartphone addiction has been compared to Internet, gambling, and shopping addiction. It is a compulsive behavior that works similarly to substance addiction in the brain.
While cell phone addiction is a fairly new concept and isn't yet in the DSM-5, there are a few treatment suggestions for those suffering from this condition:
Make rules for yourself concerning your phone usage.

Set time periods in which you shouldn't use your phone (i.e., 9 p.m. to 7 a.m.).
Designate activities in which your phone is forbidden (e.g., driving, dinner time).
Schedule break times to access your phone or social media.

Download an application to help cut down on cell phone use.

BreakFree and Menthal allow you to track the amount of time you're spending on your phone and which applications.
ColdTurkey and SelfControl allow you to block the sites you wish to avoid.

Relaxation techniques such as mindfulness can help you to cope with your cravings to use your cell phone or access social media.
---
Smartphone Addiction Therapy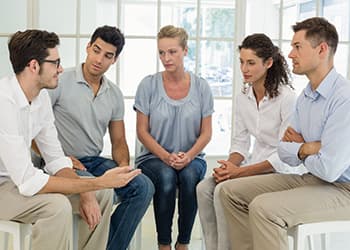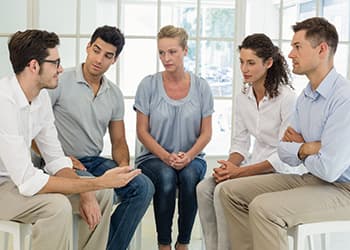 If these changes in habit don't allow you to cut down on your cell phone use, then you could be suffering from a severe smartphone addiction and treatment is recommended. Treatment options include:
Individual therapy: The therapist works with you to address any underlying problems or co-occurring mental disorders that could be affecting cell phone use.

Cognitive-behavioral therapy aims to change your maladaptive thoughts, feelings, and behaviors into healthy and positive ones. This method has been proven effective in treating Internet addiction, which is very similar to cell phone addiction.1, 2
Motivational interviewing is centered around you, the client, helps to identify the difference between current state and desired state, and allows you to find motivation to make a positive behavioral change.3

Pharmacotherapy: Although there are no current FDA-approved medications to treat smartphone addiction, when combined with psychotherapy, medications such as antidepressants, antipsychotics, and psychostimulants can help to treat Internet addiction.4
---
Treatment Groups and Centers
Internet and Tech Addiction Anonymous (ITAA): A 12-step, fellowship program that aims to help those addicted to technology recover from their affliction. Members share their experiences and provide support to one another.5
Restart Center.6

Center for Digital Technology Sustainability.
8-12-week program disconnected from digital media (i.e., internet, gaming, cell phone use).
Helps you build a plan for the future, allows you to work closely with peers, coaches, and counselors to reconnect with life.

Morningside Recovery.7

Has locations in Texas, California, and Arizona.
Specializes in dual diagnosis of nomophobia–the fear of being without your mobile device–and another mental illness, such as anxiety.

Camp Grounded.8

Is similar to a summer camp for adults.
Consists of a digital detox and interactive activities.
Smartphone addiction doesn't have to be fought alone. There are a number of treatment options available to you. It's important that you do appropriate research in order to find out which recovery option best suits your needs.
Don't Face This Alone. Professional Online Therapy Can Help You.
Call the phone number above to learn more about different cell phone addiction rehabilitation centers.
---
References
Young, K. (2007). Cognitive Behavior Therapy with Internet Addicts: Treatment Outcomes and Implications. CyberPsychology & Behavior, 10(5), 671-679. doi:10.1089/cpb.2007.9971
Young, K. (2013). Treatment outcomes using CBT-IA with Internet-addicted patients. Journal of Behavioral Addictions, 2(4), 209-215. http://dx.doi.org/10.1556/JBA.2.2013.4.3
Andreassen, C. (2015). Online Social Network Site Addiction: A Comprehensive Review. Curr Addict Rep Current Addiction Reports, 2015(2), 175-184. doi:10.1007/s40429-015-0056-9
Przepiorka, A., Blachnio, A., Miziak, B., & Czuczwar, S. (2014). Clinical approaches to treatment of Internet addiction. Pharmacological Reports, 66(2), 187-191.
Internet & Tech Addiction Anonymous (ITAA). (n.d.). Retrieved November 30, 2015, from http://www.netaddictionanon.org/
ReSTART Center for Technology Sustainability. (2015). Retrieved November 30, 2015, from http://www.netaddictionrecovery.com/
Camp Grounded – Summer Camp for Adults – Digital Detox. (2014). Retrieved November 30, 2015, from http://campgrounded.org/