Getting Help With Anorexia

Ad

PsychGuides independently researches, tests, and reviews products and services which may benefit our readers. Where indicated by "Medically Reviewed by", Healthcare professionals review articles for medical accuracy. If you buy something through our links, or engage with a provider, we may earn a commission.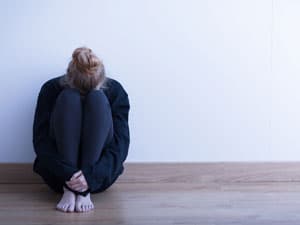 Anorexia nervosa, commonly referred to as anorexia, is a serious eating disorder in which a person has a distorted body image and does not maintain a healthy weight. It can have life-threatening consequences if not treated appropriately.
Help for anorexia is available. However, people who have a family member or friend with anorexia may not know how to talk to the person or how to choose between treatment options. Many times, a person with anorexia will deny they have a problem.
This article will cover how to get help for anorexia, including:
---
Understanding Anorexia
Anorexia is an eating disorder in which the person loses more weight than is considered healthy for their age and height.Those with anorexia take extreme measures to control their weight. They avoid or restrict food, constantly weigh themselves, excessively exercise, and try to rid themselves of excess calories through vomiting, laxatives, diuretics, or enemas.1,2
Signs and Symptoms
To be diagnosed with anorexia, a person must:2
Have an intense fear of gaining weight.
Refuse to keep a healthy weight.
Maintain a distorted body image.
Have amenorrhea, or the absence of a period for 3 or more cycles (in women).
Common signs that someone may have anorexia include:2,3
Cutting food into small pieces and/or moving food around the plate instead of eating.
Excessive exercising, even in bad weather, when injured, or when busy.
Excusing oneself to go to the bathroom immediately after meals.
Refusing to eat around other people or avoiding social situations where food will be part of the activities.
Blotchy or yellow skin, covered in fine hair (lanugo).
Brittle hair and nails.
Confused or slow thinking, poor memory, or judgment.
Depression.
Dry mouth.
Sensitivity to cold.
Loss of bone strength.
Loss of muscle and body fat.
Severe constipation.
Excessive tiredness.
Causes
The exact cause of anorexia is unknown. But certain factors may lead a person to develop it, such as:
Genetics. Genetics can play a role in the development of an eating disorder. Being in a family with a history of eating disorders makes you more likely to develop one. 1
Social pressures. Western society tends to place a great deal of importance on beauty, which can cause some people to develop a distorted body image. 5
Family pressures. In some instances, people may have family members who place a heavy emphasis on beauty, weight, and exercise, putting pressure on the person to maintain a certain weight. 5
Anorexia, like other eating disorders, most often begins during the adolescent or young adult years and is more common in females. Other risk factors include:2
Excessive worry about body image.
Having an anxiety disorder as a child.
Negative self-image or low self-esteem.
Perfectionism or obsession with rules.
Having a risk factor does mean that a person will develop an eating disorder. The person does, however, have a greater possibility of developing one.
Anorexia is very difficult to overcome alone. If you believe you or someone you know may have anorexia, call  to get more information about treatment options. Is your relationship with food causing distress? An Eating Disorder Test can provide helpful insights.
---
Need Help With an Eating Disorder? Virtual Online Treatment is Here!
Insurance Options Available.
Where to Get Help for Anorexia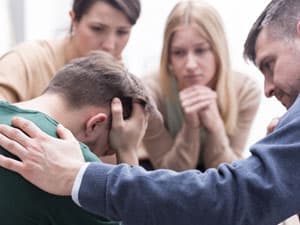 The right anorexia treatment program for a person depends on needs, symptoms, and the severity of the disorder, as well as the length of the illness. Below is a brief list of possible treatment options.
Inpatient Treatment
Inpatient anorexia treatment is provided in a facility with 24/7 medical support and monitoring. Many programs offer individual counseling and group therapy, nutritional counseling, and family therapy. The length of stay will vary depending on the individual and the severity of their eating disorder.
Residential treatment – Some people with anorexia may require residential treatment. The person lives at the facility and receives ongoing medical support and services. These programs remove the person from their everyday environment and allow them to receive support from staff and peers who are in recovery.
Hospitalization – A doctor may recommend hospitalization at the beginning of treatment if the symptoms are severe or there are health complications (ex., severe malnutrition, dehydration, heart problems, suicidal thoughts).
Luxury or executive treatment centers – These programs are similar to residential treatment centers, except they provide additional amenities, such as spa services, horseback riding, and yoga. They also cater to working professionals.
Outpatient Treatment
Outpatient anorexia treatment allows the person to attend regularly scheduled treatment sessions at a recovery center or therapist's office and then either return home, go to work, or carry out other daily responsibilities outside of treatment hours.
Individual counseling – The therapist and the patient meet one-on-one. The therapist uses a form of psychotherapy, such as cognitive behavioral therapy, that allows the person to talk through and analyze their thoughts and behaviors. Adolescents may participate in family-based treatment or family counseling.
Group counseling – A therapist with a background in eating disorders leads groups on different topics, such as developing a healthy body image and improving self-esteem.
Support groups – These groups, such as Eating Disorders Anonymous, are modeled on the 12-step program of Alcoholics Anonymous. They provide a safe and supportive setting for people to share and learn from others going through recovery from an eating disorder. Often, a sponsor, or someone who has completed treatment, is available to help walk the person through the process.
Nutritional Counseling
In inpatient or outpatient programs, a healthcare provider will likely work with or make a referral to a nutritional counselor, who can help the person to better understand healthy eating habits and how to develop a realistic nutrition plan.
Medication
Providers may prescribe medications in an inpatient or outpatient setting. Medications can treat symptoms associated with anorexia as well as any comorbid illnesses, such as depression and anxiety.
Common medications used for anorexia include:
Antidepressants.
Antipsychotics.
Mood stabilizers.5
If you need help choosing a program, call  to be connected to a caring advisor who can help you navigate treatment options.
---
Deciding Between Anorexia Treatment Options
When you're ready to get help for anorexia, spend some time exploring the different treatment options available.
Some factors to consider when choosing a program include:
Cost – Each treatment option will vary in cost. Luxury and executive treatment centers usually cost the most, followed by other residential treatment options. Outpatient may be a cheaper option, but some intensive outpatient options can be expensive as well. Support groups are typically free, but they do not offer medical care or professional therapy.
Insurance – Insurance coverage will impact cost. Talk to your insurance provider to determine which options are covered and if there are any preferred providers. Insurance may not cover executive treatment centers.
Location – Not all treatment options may be available in your community, and you may have to commute to get the treatment you need. Proximity makes it easier and more likely to get and continue treatment. Some prefer to go out of their community to separate from their daily life. However, getting treatment in your community can allow you to apply your treatment plan in a realistic setting and help to prevent relapse.
Symptoms and severity – A healthcare provider can help you determine the best treatment option based on symptoms and the severity of the eating disorder. The more severe the symptoms are, the more likely they will recommend residential or inpatient care.
Amenities – Inpatient treatment settings offer a range of amenities to help with the treatment and recovery process. Review the amenities available when making your choice to determine if they will be beneficial to you.
---
How to Talk to Someone with Anorexia
It can be difficult—even daunting—to help someone with anorexia. Often, the most difficult part of treating anorexia is getting the person to recognize that they have a problem. Denial is a key part of any eating disorder, and it may be difficult to convince someone to get treatment.
The key is to be kind, supportive, and respectful.
Here are some recommendations for how to talk to someone with anorexia:6
Set a time to talk in a private setting. Choose a place where you will not be distracted.
Express your concerns. Use specific examples of their behaviors.
Encourage them to talk to their healthcare provider about these concerns. You can even offer to help them make an appointment and go with them to the appointment.
Avoid conflicts. If the person denies the problem, restate your concerns and make it clear that you are available if they want to talk.
Do not place blame or guilt. Do not use "you" statements, such as "you need to eat." Replace those statements with "I" statements, such as "I am worried about you" or "It makes me worried when you don't eat."
Offer and provide support. Tell them that you care and want the best for them.
---
Helping Someone with Anorexia
Helping someone with anorexia includes supporting them as well as taking care of yourself. Once they've decided to seek treatment, you can do a number of things to aid their recovery. Just make sure you set boundaries and don't allow their recovery to consume your life.
Educate yourself about eating disorders, including the causes, risk factors, signs, and symptoms.
Be patient and non-judgmental.
Focus on positive traits that don't relate to appearance.
Check in with them and ask how they're feeling.
Provide supportive follow-up with statements such as "how is treatment?" or ask if you can attend therapy or a support group with them.
Avoid discussions about food, their weight, or their eating habits. They may become defensive or even shut down.
Get support for yourself. Support groups for caretakers can be beneficial and help you to better understand what your loved is going through.
Be a good role model. Practice healthy eating habits and be encouraging. 7
---
Finding Anorexia Treatment for a Friend or Family Member
If you need additional guidance finding help for anorexia, call us today at . We're available 24/7 to assist you. Worried about anxiety? Take an online anxiety quiz to learn more and get the help you need.
We provide 100% confidential support by caring advisors who can help you navigate the services and supports available in your area.
Read next: Anorexia Causes, Symptoms, and Effects
---
Sources
[1]. National Institute of Mental Health. (2016). Eating Disorders.
[2]. U.S. Department of Health and Human Services. (2016). Anorexia Nervosa.
[3]. National Institute of Mental Health. (2014).  Eating Disorders: About More than Food.
[4]. U.S. National Library of Medicine. (2016). Anorexia.
[5]. U.S. Department of Health and Human Services. (2012). Anorexia Nervosa Fact Sheet.
[6]. National Eating Disorders Association. (n.d.). What should I say?
[7]. National Eating Disorders Association. (2015). Parental toolkit version 3.0.