Bulimia Treatment

Ad

PsychGuides independently researches, tests, and reviews products and services which may benefit our readers. Where indicated by "Medically Reviewed by", Healthcare professionals review articles for medical accuracy. If you buy something through our links, or engage with a provider, we may earn a commission.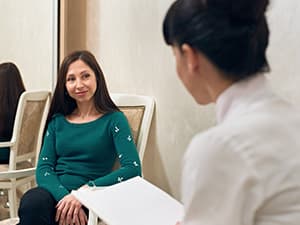 Bulimia nervosa, more commonly referred to as bulimia, is a serious and potentially life-threatening eating disorder. Professional treatment is often necessary to overcome the disorder and some insurance covers bulimia treatment.
Those with bulimia may receive a combination of therapeutic approaches, such as psychotherapy (individual or group counseling), family therapy, nutrition counseling, and medication. Any of these approaches can be provided in an inpatient or outpatient recovery center.
Several different types of bulimia treatment programs are available. The right type of rehab depends on the severity of the disorder, whether the person has any medical or psychiatric conditions, the location of the program, and how much it costs.
Learn more about bulimia treatment options, including:
---
Is There a Cure for Bulimia?
Yes, it is possible to recover from bulimia, particularly when the person receives appropriate treatment under the supervision of a healthcare professional. Studies have shown that about 50% of people with bulimia can recover after treatment, 30% can have a partial recovery, and about 20% may continue to show symptoms of bulimia.1
However, it is also possible to relapse, especially when the underlying causes of bulimia, such as depression, anxiety, and substance abuse are not treated.
A multidisciplinary approach is the most recommended form of treatment for bulimia. This approach typically includes a doctor, a nutritionist, and a mental health therapist working together. An Eating Disorder Self-Assessment is the first step in your journey towards wellness.
---
Need Help With an Eating Disorder? Virtual Online Treatment is Here!
Insurance Options Available.
Residential Inpatient Treatment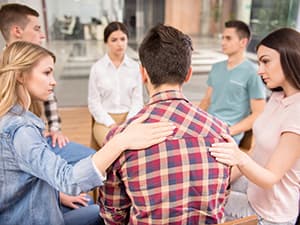 Inpatient or residential bulimia treatment centers allow the person to live in the facility. The person receives 24/7 medical supervision and support that is focused on the treatment and recovery from bulimia and comorbid illnesses. These settings may offer:
Individual therapy.
Group therapy.
Family therapy.
Medication.
Medical care.
Nutrition counseling.
Those with more severe or long-term struggles with bulimia, as well as those with comorbid psychiatric disorders, may benefit from the additional support and supervision provided in a residential, inpatient recovery program.
Upon completion of an inpatient bulimia rehab program, people will often continue their recovery through ongoing outpatient treatment approaches (such as regularly scheduled psychotherapy sessions or support group attendance) to help with any lingering symptoms and prevent relapse.
Without additional therapy or follow-up, some people relapse once they return to their community and old relationships.
Hospitalization
Those who are suffering from severe malnutrition and dehydration in association with their eating disorder might first need a period of hospitalization to stabilize their condition. A hospital treatment setting can treat health issues such as abnormal heart rate or blood pressure, inability to regulate temperature, electrolyte imbalance, and malnutrition. 4 A doctor will help you decide the most appropriate treatment for your health needs.
If you'd like to learn more about inpatient treatment centers or other recovery options, call .
---
Outpatient Treatment Programs
Outpatient rehab centers typically offer psychotherapy (either individual or group), nutrition counseling, family therapy, support groups, and/or medication. They are part-time programs in which you attend a treatment center according to a set schedule.
These programs are often best for people who do not have severe symptoms or medical complications and have a good support system.
The right type of outpatient recovery program will vary based on symptoms, needs, and goals. Your healthcare provider can help you navigate the options and help you to decide which one is the best for you.
---
Luxury and Executive Facilities
Luxury and executive treatment facilities for bulimia and other eating disorders are similar to other residential treatment programs. The person lives at the facility, and there is 24/7 medical supervision and support.
However, these facilities provide extra amenities and features for working professionals. Some facilities offer spas, yoga, or horseback riding. These programs are much more expensive than others and not always covered by insurance.
---
Therapies for Bulimia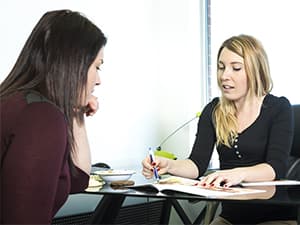 The below list includes possible therapeutic approaches that your healthcare provider may recommend. Therapy can be done in a variety of settings, including residential bulimia rehab centers or outpatient therapeutic care and support.
Cognitive behavioral therapy (CBT) – CBT is a commonly used, evidence-based approach that has a specific format for bulimia: Cognitive Behavioral Therapy for Bulimia Nervosa (CBT-BN). The approach begins with education about bulimia and then uses methods to address or change maladaptive eating thoughts and behaviors. CBT focuses on normalizing healthy eating patterns to reduce binge eating. Your therapist may suggest you use a diet record to monitor your eating.2
Interpersonal therapy – This approach focuses on changing the relationships (i.e., family or peer) that can trigger or encourage an eating disorder. The idea behind this approach is that our relationships play a role in our relationship with food and eating habits. This approach can take longer than other therapies, such as CBT and DBT. 3
Dialectical behavioral therapy (DBT) – DBT is a comprehensive, evidence-based therapeutic approach that focuses on multiple diagnoses and has been effective for those with eating disorders and comorbid illnesses. 4 The goal is to learn how to tolerate stress and regulate emotions, which can reduce the desire to turn to food to relieve stress.
Family-based treatment – This approach helps parents learn how to monitor their adolescent's eating until the child demonstrates improvement. The goal is for the parents to take responsibility for their child's eating disorder.5
Nutritional counseling or therapy – This form of therapy helps the person with bulimia relearn healthy eating habits and nutritional needs. The provider will often help the person develop specific, realistic nutrition plans.
Alternative therapies – Yoga, meditation, and tai chi can help promote a positive body image and help the person learn healthy coping strategies. Other activities such as hobbies and extracurricular activities can also boost self-esteem and encourage healthy lifestyle changes.
If you need help finding a bulimia treatment center, contact a recovery support advisor at .
---
Prescription and Over-the-Counter Medications
Antidepressants, antipsychotics, and/or mood stabilizers can help treat both the eating disorder and any co-occurring mental illnesses, such as anxiety and depression. 6 Medications are usually combined with some form of therapy.
Antidepressants – Fluoxetine, known as Prozac, is a commonly prescribed antidepressant that the Food and Drug Administration (FDA) has approved to treat bulimia. 4,7 One study found that this medication was able to reduce binge eating by 67% and purges by 65%. 8
Topiramate – Topiramate or Topamax is another medication that has been used to treat bulimia. One review found that it was especially effective for short-term treatment. 9
---
Support Groups and 12-Step Programs
Similar to the 12-step programs developed by Alcoholics Anonymous (AA), these groups allow people to share their stories and experiences of recovery to help others. Some people use these groups as their primary form of treatment, while others use them as a form of follow-up care after completing an inpatient treatment program.
Some groups have a relatively spiritual outlook on addiction recovery. However, there are rarely any formal religious affiliations or requirements for participants to be religious.
Many groups will encourage the selection of a program sponsor. Sponsors are recovering individuals with wisdom and experience to share with those newer to the program than they are.
Support groups across the country focus on eating disorders, and some specifically focus on bulimia. Check with each group to see if one exists in your area.
Eating Disorders Anonymous – This group focuses on all eating disorders. It offers a safe environment for people to share their experiences and help others recover from eating disorders.
Overeaters Anonymous – This group provides a program of recovery for those suffering from overeating, including binge eating and bulimia. It helps people stop overeating by using a 12-step approach.
Compulsive Eaters Anonymous – This is a fellowship that helps those who are suffering from compulsive eating. It helps people recover through shared experience, strength, and hope.
---
How to Find the Best Bulimia Treatment Centers
If you or someone you know is suffering from bulimia, please call us today at .
You will be connected to a 100% confidential and free helpline with trained, caring advisors who can help guide you through the best treatment options for bulimia available in your area. Suffering from depression? Don't suffer in silence. Take our free depression quiz online now.
Read next: Where to Get Help for Bulimia
---
Sources
[1]. Hay, P. J., & Claudino, A. M. (2010). Bulimia nervosa. BMJ Clinical Evidence, 1009.
[2]. Murphy, R., Straebler, S., Cooper, Z., & Fairburn, C. G. (2010). Cognitive Behavioral Therapy for Eating Disorders. The Psychiatric Clinics of North America, 33(3), 611–627.
[3]. Mitchell, J. E., Agras, S. and Wonderlich, S. (2007), Treatment of bulimia nervosa: Where are we and where are we going? Int. J. Eat. Disord., 40: 95–101.
[4]. Lock, J., & La Via, M. C. (2015). Practice Parameter for the Assessment and Treatment of Children and Adolescents with Eating Disorders. Journal of the American Academy of Child & Adolescent Psychiatry, 54(5), 412-425.
[5]. Lock, J. and le Grange, D. (2005), Family-based treatment of eating disorders. Int. J. Eat. Disord., 37: S64–S67.
[6]. National Institutes of Mental Health. (2016). Eating Disorders.
[7]. Gorla, K., & Mathews, M. (2005). Pharmacological Treatment of Eating Disorders. Psychiatry (Edgmont), 2(6), 43–48.
[8]. Hoste, R.R., Labuschagne, Z. & Le Grange, D. (2012). Adolescent Bulimia Nervosa. Curr Psychiatry Rep 14: 391.
[9]. Arbaizar, B., Gómez-Acebo, I., & Llorca, J. (2008). Efficacy of topiramate in bulimia nervosa and binge-eating disorder: a systematic review. General hospital psychiatry, 30(5), 471-475.